Sheet Metal Fabrications in Eureka MO | Future Aire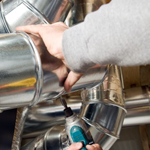 Over the years, the city's homeowners have sought the Future Aire Heating & Air Conditioning metal fabrication services, rating us the best in the industry. Our experts can handle any job from major procedures like custom ducts to smaller projects like replacing your current duct with a new one.
There are numerous benefits of using custom pieces in HVAC installation and repair. The first one is energy efficiency. Standard sizes are prone to bends, especially if your house has unique features. As a result, some rooms are too hot or cold. Conversely, custom ductwork is free of leaks, thus transporting air to the right places.
The efficiency translates to lower electricity bills and long-lasting units since the system functions within its limits. What's more, we design pieces using your home's measurements, saving you space. The fact that the system is functioning optimally improves air quality.
Find Custom Sheet Metal Fabrication Services Near Your Area
Our technicians have built a reputation in providing lasting HVAC solutions. With our custom metal services, we've improved the heating and cooling efficiency of numerous homeowners. Our processes may be simple, but they're effective.
We recognize that successful ductwork starts with fabrication. Rushing this stage may cause cracks, and eventually, energy loss. Paying attention to detail, we examine your unit and create custom ducts for maximum airflow. The next step is fitting and sealing the pieces so the system runs smoothly.
Aside from training, our professionals use their industry experience to actualize your HVAC goals. We don't back down from a project despite its complexity. Our specialists guarantee the perfect match for your house, its size, and style notwithstanding.
But our services don't stop at residential buildings. We also handle commercial and industrial spaces, for example, offices, factories, schools, and restaurants. Apart from ducts, we deal with exhaust systems and specialty fabrications.
You'll also love our unbeatable rates and frequent promotions. If you cannot afford the project, we connect you to reputable institutions for financing. Even with the technical skills, our customer care is unmatched. Are you tired of rude agents? On top of friendliness, our representatives are respectful. This goes hand in hand with fast replies. Again, our representatives understand the company's services to offer detailed guidance. No more awkward silences on the phone because the agent cannot answer your questions.
We also appreciate customer feedback and strive to address their concerns. You can reach us through our hotline for queries and emergencies. Our arrival is also quick, so you don't deal with HVAC malfunctions on your own. Best of all, we complete projects on time to restore regular home operations.
Looking For Sheet Metal Fabricators? Call Our Eureka MO experts!
When getting a heating or cooling unit, you want to ensure your house is ready for the investment. Buying a heating/cooling system without proper ductwork is like constructing a home without a foundation. As such, custom ductwork analysis is part of our service calls. With years in the industry, we're proud of our contribution to the community, helping countless clients enhance their airflow and comfort.
Business Information:
Future Aire Heating & Air Conditioning
690 W. 4th Street, Eureka MO, 63025
636-938-5290